This is actually Doctor Who, by the way.
Bio
He probably has autism, or another mental disorder that causes him to behave like a 4-year-old.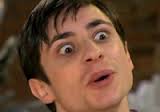 'I'm clever than you,' he says. He actually says 'clever', not 'cleverer!' How stupid.
He actually does something good with his life, killing the Sontarans in addition to his own self.